Multifitting – software for reflectometric and small-angle scattering analyses of multilayer nanostructures.
The program is intended for numerical simulation of the reflection and transmission of short-wavelength radiation by a multilayer structure, as well as the calculation of intensity distribution inside the structure, and the calculation of small-angle scattering by roughness and intralayer particles.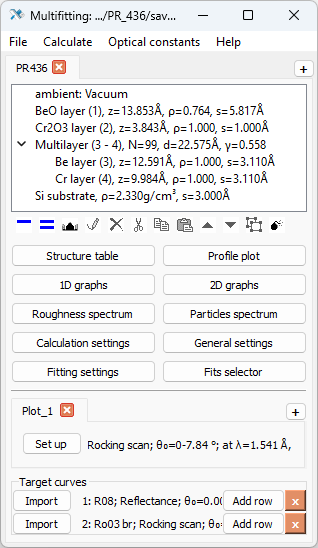 Download software
Windows
«Microsoft Visual C++ 2019 Redistributable package» may be required to run the program.
Linux
«linux-old» has been checked for Debian 11 and Ubuntu 20.04.
«linux-new» has been checked for Debian 12 (testing), Ubuntu 22.04, Fedora 37, OpenSUSE Leap 15.4, Arch Linux, Manjaro.
Previous versions

v.1.10.2
Multifitting_v_1_10_2_win
Archive 7z, 28.6 MB
Multifitting_v_1_10_2_linux-new_x64_tar
Archive 7z, 33.5 MB
Multifitting_v_1_10_2_linux-old_x64_tar
Archive 7z, 33.5 MB
v.1.10.0
Multifitting_v_1_10_0_win
Archive 7z, 28.7 MB
v.1.9.2
Multifitting_v_1_9_2_win
Archive 7z, 28.2 MB

Also, the program can be downloaded from the project repository on GitHub
Download manual
Publication
Contacts